These happy little gluten free cookies are perfect for your Valentine.  I make them every year for Christmas - but they are perfect all year round.  Try different types of fruit jams - seasonally (strawberry-rhubarb would be fantastic for 4th of July.)  They are always a favorite, and usually the first cookie to disappear.  When Deanna comes home, she always asks me "Mom, did you make the Linzers?"   They take a little time, but they are so worth the effort!  
Gluten Free Raspberry Linzer Cookies 
Makes 2 dozen gluten-free cookies  
Ingredients: 
Good quality raspberry jam - I love Bon Maman (the jam with the red and white gingham lid) 
1 cup of cold unsalted butter 
1 cup of granulated sugar 
2 large eggs (room temperature) 
3/4 teaspoon of salt 
1 teaspoon of bourbon vanilla extract  
3/4 cup of cornstarch 
3 1/2 to 4 cups of gluten-free flour (I use 
) 
1/4 cup of powdered sugar (for dusting the tops)  
Method: 
Place the butter and sugar into the bowl of a stand mixer.  Cream the butter and sugar together (med-low speed) - it's best to use the flat beater attachment for this if you have one.    
Add the eggs, one at a time, and scrape down the sides of the bowl with a spatula after each.  Stir in the vanilla extract, salt, and the cornstarch.    
Add the flour, 1/2 cup at a time, on medium-low to avoid having a flour covered kitchen!  
Add flour (up to the 4 cups) until the dough pulls away from the sides.   Scrape dough out of the mixing bowl and into a gallon zip-lock bag.   
Chill for 30 minutes.  
Preheat oven to 350 degrees while you roll out the cookies.   
Roll cookies out on parchment or a silicone rolling mat, to about 3/8 of an inch.  Use a round or heart-shaped cookie cutter to cut the cookies.  In half of the cookies, cut out a "window" with a smaller cookie cutter.  Here is where you can get creative - I used a heart, but use whatever shape fits the occasion - stars for 4th of July or Christmas.  
Place cookies on a parchment lined baking sheet.  Bake for 10-12 minutes, or until the edges just barely brown.  Remove from oven and cool completely.  
To assemble the cookies: Spread jam on the cookies without the 'windows'.  Place cookie with 'window' on top of the jam.  Dust with powdered sugar - I use a small sifter to do this.  Pin this recipe for later   
Let me know how you liked them!  What flavor of jam did you choose? 
PIN ME FOR LATER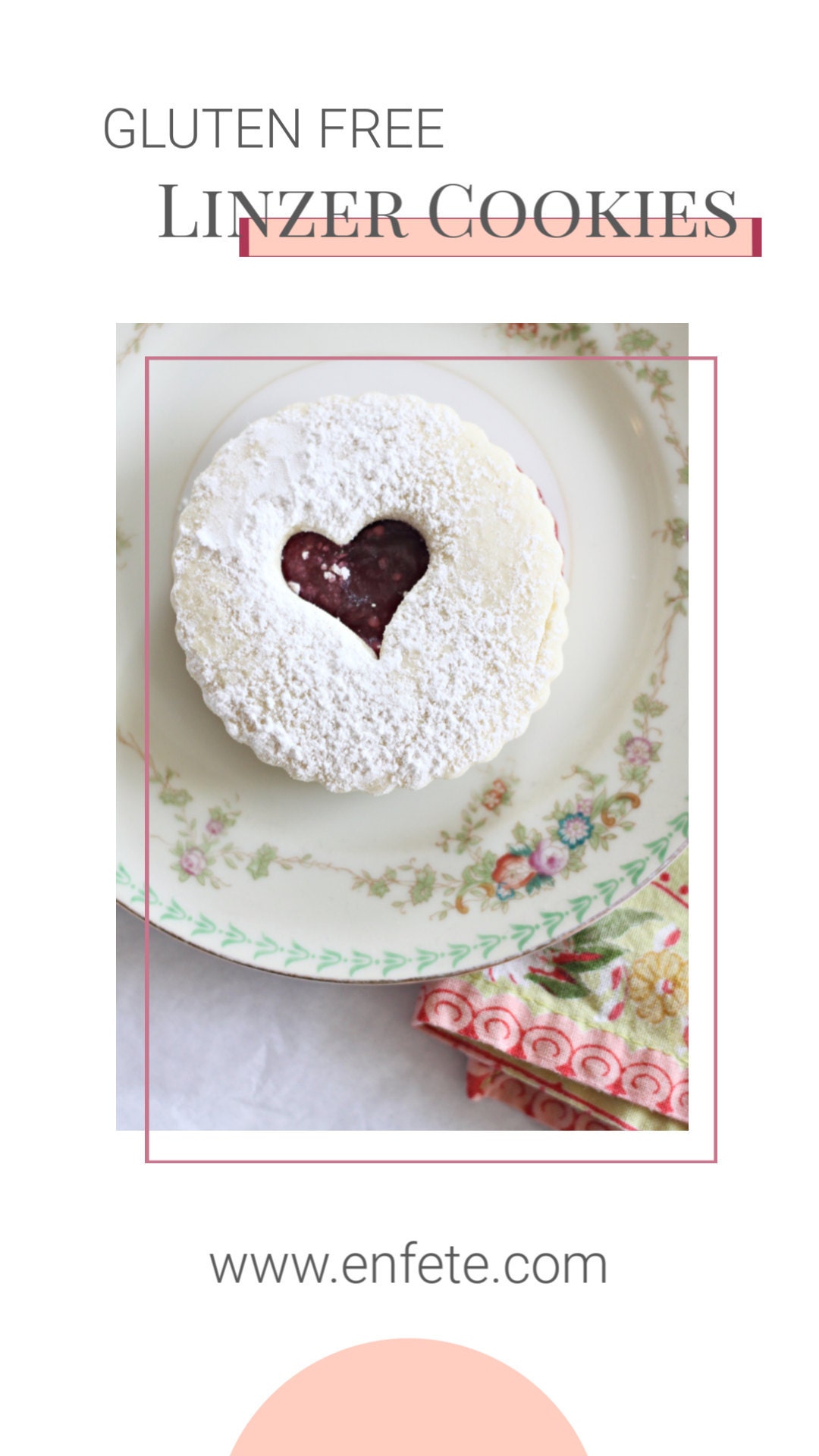 I am an Amazon affliate, and there are links within this post that I may earn commision from you clicking on - however, I never recommend of post products that I do not personally recommend.  The opinions and recipes herein are all my own, unless noted.